Here are this week's photos: remember, we are taking one picture for each day of the year. Hopefully by the end, we will have 365, but we'll see! Join us in the comment section by leaving the link for your blog post with your photos. It doesn't have to be a picture of EVERY day, so no worries on that either! And of course, we're no pros here: these are all camera photos (because I'm L-A-Z-Y like that)!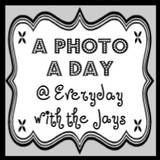 [grab this button on my sidebar --->]
How was your week? Let's see it in photos!