Time for Photo a Day (where I share one photo from each day this week: well, most days... like I said, I was busy reading "The Hunger Games" this week!)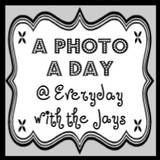 [last Saturday]: Painting in the guest bathroom closet! Hope to have the entire closet done by next week!
[Sunday]: We had a church fellowship at a gorgeous lodge on a lake (owned by two church members). So fun to fellowship and take in the beautiful scenery!
[Monday]: Our pretty couch arrived! Our pup-nephew, Ralf, enjoyed it! My brother and his wife came to visit for three days, yay!
[Tuesday]: Happy Valentine's Day! These are a tradition every year: my favorite! Thank you, Nate!
***missed Wednesday, that's when I started reading "The Hunger Games"!
[Thursday]: YAY! It is so good, couldn't put it down!
[Friday]: NOOOOO! But I immediately started book two afterwards (already into part 2 of it)!
[Saturday]: I made Brittany's
Red Velvet Cool Whip Cookies
, although I used strawberry cake mix! They are DELICIOUS, so easy, and yum yum yummy! Go to her blog to get the recipe!