So sorry I missed my traditional Saturday post of Photo a Day! I had the amazing opportunity to visit my family in Dallas solo this weekend while the hubs fished in a bass tournament in H-town. I had a blast with my parents and catching up with old friends. However, I was very glad to be home to my husband (and my own bed) last night!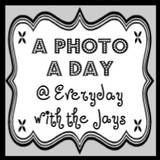 Now, nobody has joined me in this venture (that I know of, anyways!) and this is week fifteen. It's never too late to join! Even if you only take a few photos a week, that is a-okay. I think a small snippet of everyday life is always fun to see! So if you would like to share your weekly photos, just leave a comment and a link to your blog: we will make sure to stop by!
[Sunday]: Happy Easter! My parents got Nate and I this cute rabbit... isn't it adorable?
[Monday]: It is definitely baseball season in Texas. Am I right,
Kristen
(our hubs both l-o-v-e the Rangers, as do we- the wives)? Each game has been viewed in our house daily and Nate likes to do a score book page with stats for each game. Can't say that I'm complaining... go Rangers!!! (especially Michael Young, my favorite... and Kinsler, Murphy, Beltre, Cruuuzzzzz, Andrus, the whole gang!)
[Tuesday]: An art gallery my kiddos made. We had just finished a review on shapes and each student created a piece of art using only shapes: they weren't allowed to draw/cut/tear or anything. They did such a great job and were so creative!
[Wednesday]: Nate bought me a chocolate chip cookie dough blizzard after he left church on Wednesday night. I am definitely spoiled :)
[Friday]: My old bedroom at my parents' house. All of the homecoming mums, pictures, banners, dolls, etc, have been removed, but it is still comforting to stay in that room!
[Saturday]: Reuniting with my gals and eating delicious snow cones with the BEST soft ice ever. Yum! Clear coconut is my favoriteee flavor. I worked at a snow cone stand (not this one, but another in town) while I was in high school and it was so fun!
[Sunday]: I attended Sunday morning worship with my parents at the church I was raised in. This is where I met some of my best friends and created the best memories from my childhood and adolescent years (mission trips, anyone?!). This is also where I met Nate (he was the music intern) and where we eventually walked down the aisle and said "I do". So sweet to me! And I'm also spying on Emily, my sister from another mister (our parents are BFFs and we were raised together: love that lady!)
It was such a great week and wonderful weekend in the DFW. Love when I get to visit! This week is looking to be pretty low-key, but I am ready for that! And only, oh, 29ish days of school left- but who's counting? :)