Week twenty two. Sheesh.
I am happy to report that no pictures this week will come from my classroom: hooray for the first week of summer!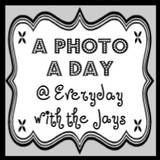 Sunday: Movie date night with Nate! We went to the town next to us (about 20 minutes away) to their adorable theatre. One movie, one showing. Precious small town life.
Monday: First project of summer, completing a pouf for my cousin's bridal shower. Mastered! Oliver's pretty stoked about it.
Tuesday: Got the sewing bug this week. Picked up adorable striped fabric to make this skirt (post coming soon). I made it (after resizing it four times, sheesh, I kept making it too big!) but my thread chose to be wonky, so I probably won't wear it out. But.....
Wednesday: I found a new tutorial and made this skirt (again, post coming soon)! So cute and flowy/twirly!
Thursday: The summer traveling begins. Chloe is
such
the travel bug.
Friday: Family time is always a good time. Nate with our nephew, Wyatt :)
Happy Saturday to all!