I've seen TONS of blogs with buttons: "here, grab my button!", "you read my blog, you should have my button!" etc. etc.
Well everyone, I'm a follower. And now I HAVE A BUTTON. Look to the right: it says "Grab My Button!" Do it. DO IT. Yes, it's a picture of me and my honey. Because our blog is called "The Johnsons" and that's us. Simple :) Just copy the code, go to your Layout tab, click to add a Widget (an HTML Widget), paste, done!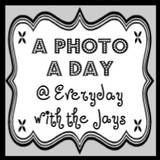 I found this incredibly easy to follow tutorial on how to make a button using Photobucket.
Click here
to get to the tutorial! Thanks "The Little Hen House"!
Now this is only my 2nd attempt, so I may play around with it later. But for now, at least it's there! If you put it on your site, let me know!