( I know, I know... it isn't Monday... but I can still "make" stuff any day of the week, right?!)
So. December begins on THURSDAY. When did that even happen? December is my favorite month of the year! Fun times had at school, TWO WEEKS off of work, me
and
Nate's BIRTHDAAYYYS (which happens to be four days apart, with Christmas in the middle, athankyou), but most importantly, the birth of our Savior! Such a great month :)
The week before Thanksgiving is when we actually decked our house out in all sorts of Christmas goodness. My mom was visiting us that weekend, so I took advantage :)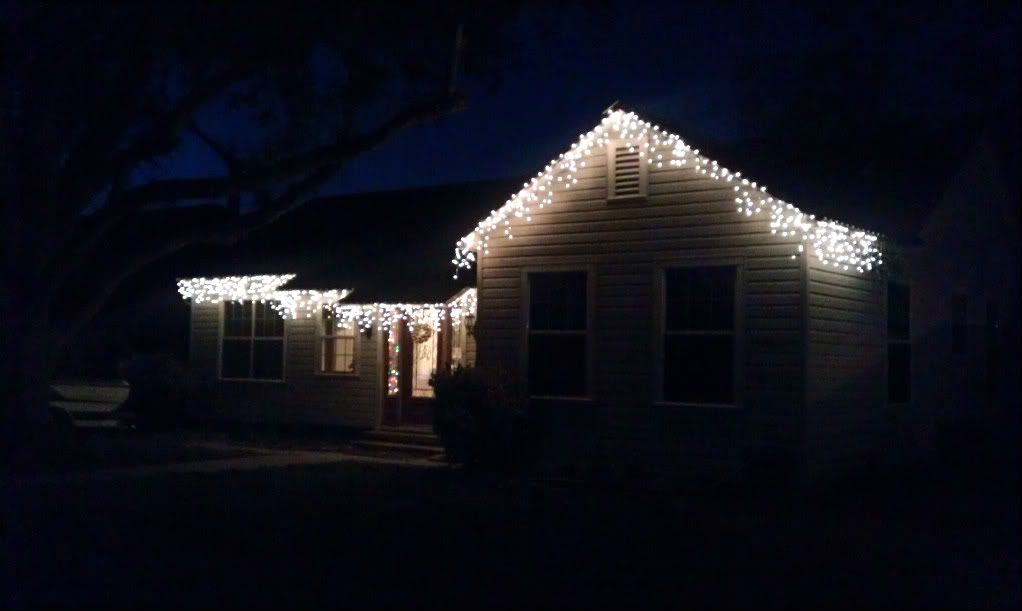 Pretty lights on our cutie patootie house... and yes, it was dark outside... I wanted to get the glow and ambiance of the lights!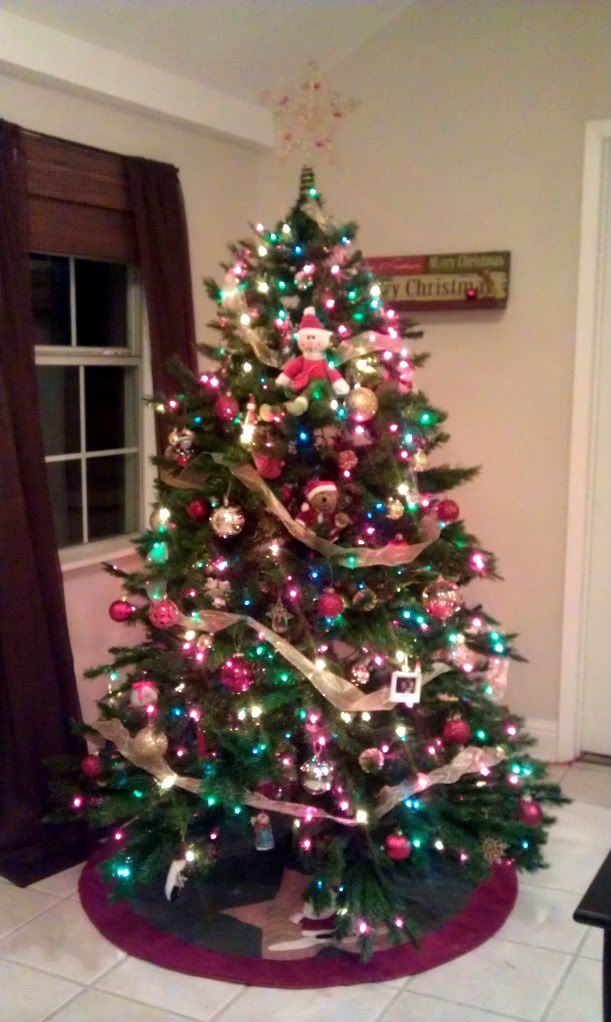 Gorgeous tree! My parents donated us theirs when we moved into a house last year. We may opt for a white light tree next year, but this tree is so fun with its colors and pops of red and gold.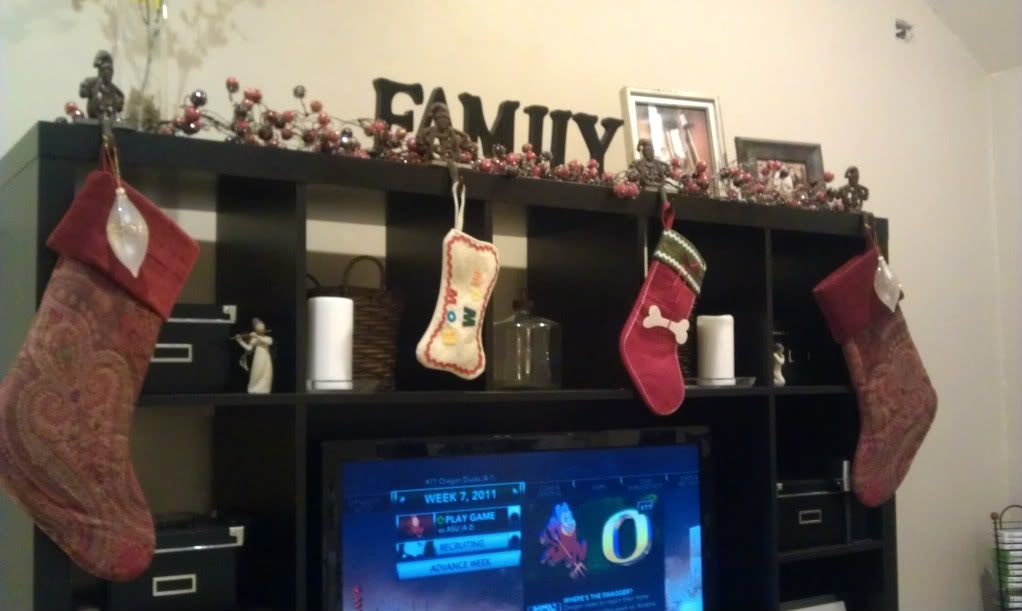 We don't have a mantle at our house (no fireplace), so this year I chose to hang our stockings from our entertainment unit! And yes, that is NCAA 2011 for Xbox on the TV... thanks Nate ;)
A close up of our stockings: nothing monogrammed or labeled with our names, but we each get a fancy red stocking and a pretty ornament too.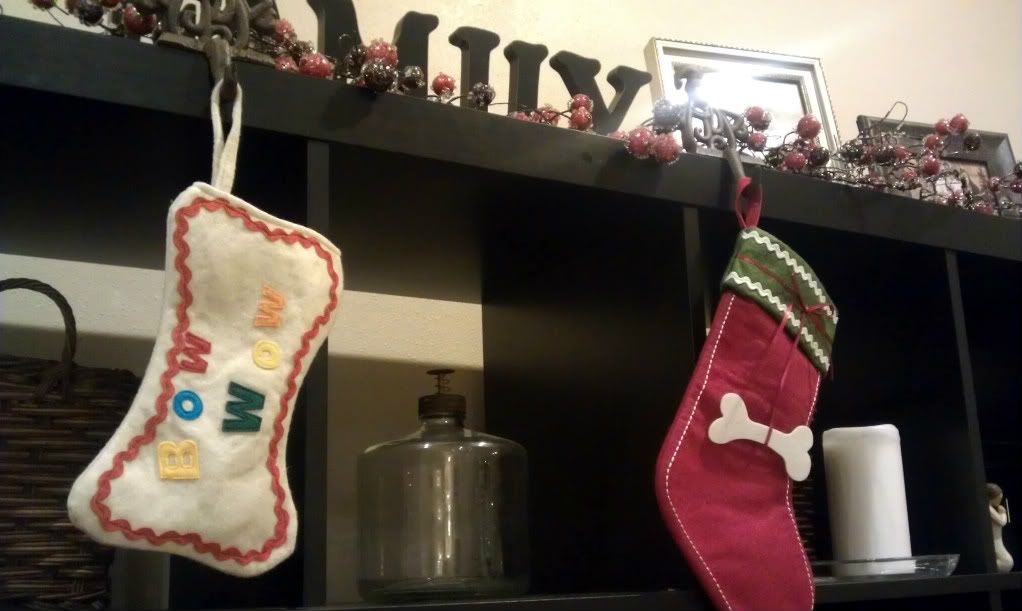 These are the pups' stockings: Chloe has the "Bow Wow" stocking (from World Market two years ago) and Oliver has the stocking with the bone (World Market this year).
This is the center of our coffee table: here lies one of the BEST treasures of the holidays... Hershey's Candy Cane kisses! See when I talked about them
last year here
.
My cute snowman and Santa Claus dish with a gob of ornaments :) If you want something to look festive, add ornaments!
Our buffet in our dining room. This is where I put my GAH-ORGEOUS Willow Tree Nativity set. I received all of the pieces for Christmas the past two years. Last year when I blogged about our set (
here
), I didn't have the creche (wooden backdrop that they're standing on), but Nate's Mimi got it for me last year and now I get to use it! Hurrah!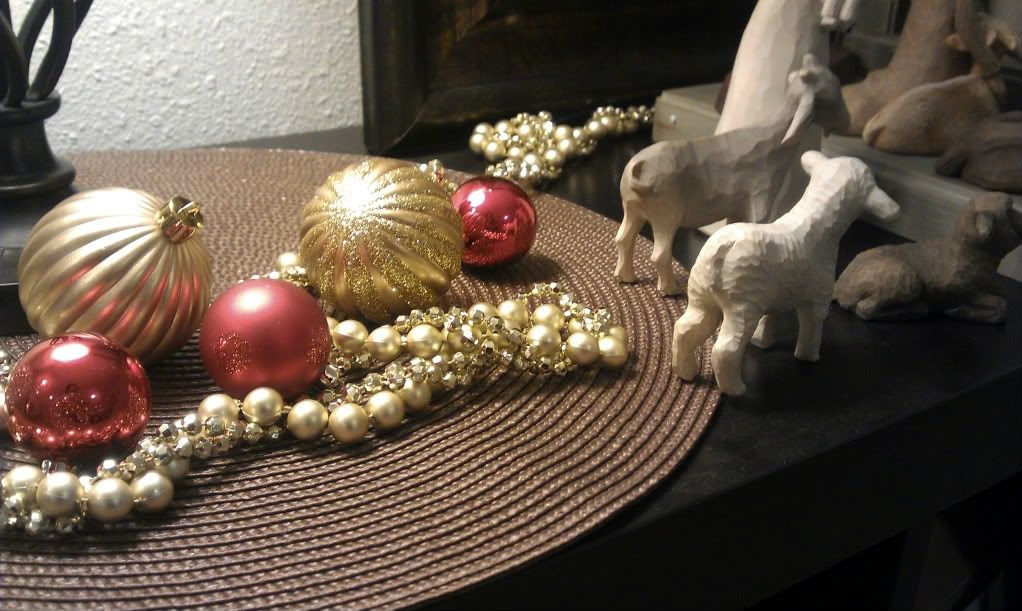 Who said the nativity scene couldn't have a bit o' bling? Again, add those ornaments!
Our dining room table: the ornaments make their appearance again! They're just so fun! I purchased the red/white snowflake runner from Target (last year, I think) as well as the red chargers. I'm still looking for the PERFECT placemats, but I may just end up sewing my own. Also, Nate's aunt got me the two vintage Christmas plates last year for Christmas. Aren't they cute?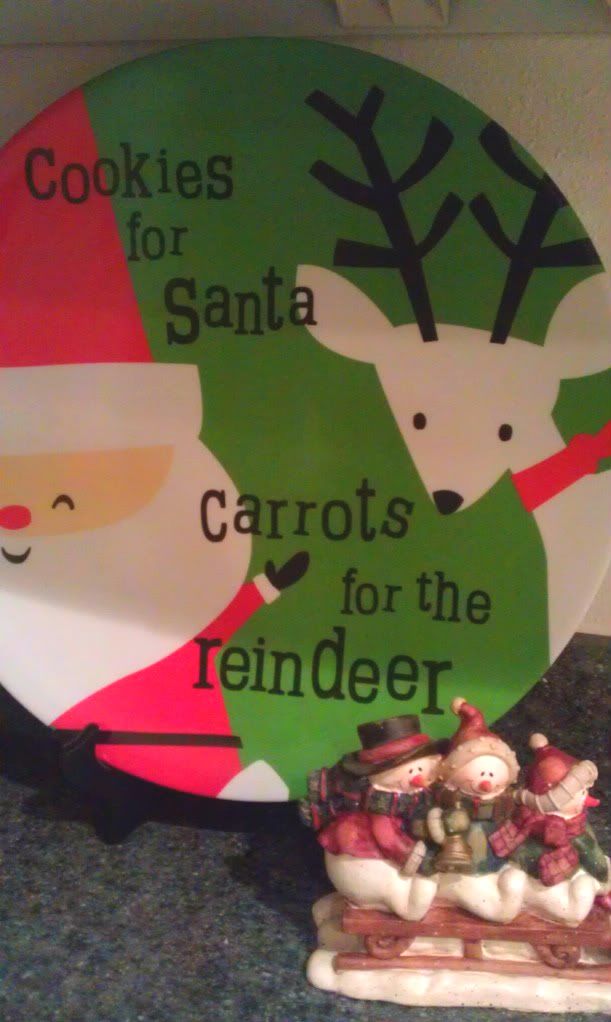 This is the CUTEST plate I got at Target last year. And you better believe I'll be using it when we have kids and they prepare for Santa with cookies (and carrots)! For now, it's on a stand on our kitchen counter :)
I wish all seasons were as decked out as Christmas: it's so fun to decorate! What does your house look like this time of year? Do you go all out? Have a theme/color scheme? Or just put up a tree? Do tell.