It's Saturday!
This means it is time to share our photos from the week: remember, nothing fancy, just a photo a day!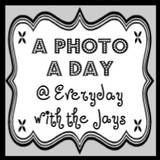 Sunday [eight]: Chloe loves to help me with my lesson plans
Monday [nine]: Strawberry Banana smoothie from McDonald's... yum-o!
Tuesday [ten]: Checking assessments while getting a car wash, life of a teacher.
Wednesday [eleven]: Chloe loves her rope! So intense...
Thursday [twelve]: gorgeous Texas sky
Friday [thirteen: dun dun dun]: Dinner and ice cream with friends
Saturday [fourteen]: My crafting life has been changed... I PRINTED ON BURLAP with my computer printer: expect a detailed post tonight/tomorrow/Monday/soon!
Be sure to share YOUR weekly posts in the comment section! Let's visit one another and see how our weeks were! And the button is being WONK-Y this evening, so I apologize for that inconvenience... ugh, technology!**
**update: I fixed it! Look for the URL for the button on my left sidebar