Hello all!
I hope you have had an excellent Saturday! We sure have: full of cleaning, laundry, projects, homework, and baseball! Of course, we also celebrated Cinco de Mayo by having chicken tacos with the appropriate colored toppings (matches the Mexican flag)!
Check out this week's photos! Hope you join in too! Leave a link in the comments for your blog and I can feature it this week too! These pictures are also featured on my Instagram (chrissydj) so you should find me on there: I will follow you too!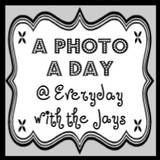 [last Saturday]: guest bathroom project that I am SO excited about! it's a bit tedious, so it has taken me awhile to finish (STILL working on it), but it'll be so worth it when it's done!
[Sunday]: Snowcones are one of my absolute favorite things on the planet (the affection may have started when my first job was working at a snowcone stand my sophomore- or junior, don't remember- year of high school). Today's choice? Strawberry with cream. Mmmm.
[Monday]: Was feeling a bit wishy washy when I got home from work... fell asleep for 45 minutes, tried to go grocery shopping but the car drive made me super dizzy and we had to turn around... ate dinner and then slept for two more hours... Needless to say, I was up until midnight. I think it was a tension headache, but who knows. This little girl always helps me feel better though!
[Tuesday]: Road trip to Houston (about an 1.5 hours away) to Ikea! One of our favorite places... we picked up a few things and were waiting for some furniture to be pulled out for us, so we had a snack. Mmm cinnamon rolls!
[Thursday]: Remember our trip to Ikea? Well, we got a butcher block island! Our kitchen had this ginormous space that needed something. An island definitely fit that need! On the other side, there are three huge drawers plus two super long shelves. We already have so much more storage and it's so nice to sit there to eat/prep food/do projects. Yay for upgrades!
[Friday]: The attractive hubs getting ready to "DJ" the high school baseball playoff game! He plays the music, a good friend of ours does the scoreboard, and our associate pastor (and another good friend) does the announcing. I just get to sit in the press box for kicks! It was a gorgeous Friday for some high school baseball! Gotta love that Texas sky...
[Saturday]: Feliz Cinco de Mayo! Comimos tacos de pollo por Cinco de Mayo y fueron muy deliciosos!
(HA- my Spanish is totally butchered, but I may or may not have used an online Spanish translator! Basically saying we ate chicken tacos for Cinco de Mayo and they were very delicious!) But you know these tacos are Nate's because I am a meat and cheese only gal :)
Happy weekend! We have a church potluck lunch tomorrow which is always fun- then I need to type out lesson plans.... blah... three more weeks! And work on my guest bathroom project! Have a wonderful Sunday tomorrow, God bless!