We were so busy last weekend finishing up our dining room (which I will share next week!) and bathroom (see progress
here
), I forgot to share my daily photos from last week!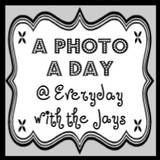 last Monday (May 7th): Why yes, we did order Texas Rangers checks.
last Tuesday (May 8th): Teacher Appreciation Day! Students brought me breakfast, candy, and a Starbucks gift card! Perks of being a teacher :)
last Wednesday (May 9th): One of our youth group students' brought her chihuahua/poodle puppy mix to church. He was adorable!
last Thursday (May 10th): Rain, rain, rain. We have had so much rain lately- hence why we had early release Tuesday! But better than no rain at all!
last Friday (May 11th): Date night! We ate Mexican food and saw "The Avengers"- we really liked it! We like superhero movies though, so if that isn't your thing, you probably won't like it. But we thought it was good!
last Saturday (May 12th): Another day, another DIY project! We went to Lowes (45 minutes away) and purchased some wood for our dining room project. It feels so good to look at something and know that YOU DID IT YOURSELF! Truly makes you proud to be a homeowner!
Stay tuned for this week's photos! Happy weekend- and four more school days! Well, two. One is a picnic and one is a 10am dismissal day. Wahoo!