I have made it a goal in 2012 (and on Facebook) to post one picture every day to chart this year- the album name is [twothousandtwelve] on FB. I tried doing this in 2010... I was consistent up through the summer (when we moved our entire lives four hours away) and then it was just splotchy/here and there pictures for the remainder of the year.
This year will be different!
So each Saturday (schedule/travel plans willing), I hope to share a post with you about my photos from the week... Hence, this post is called Week One!
Now, here's the deal: I want YOU to join me! Just FYI, these are ALL phone pictures... Yep, I am l-a-z-y. So you don't have to get oober fancy with it unless you just want to!
Every Saturday, this post will go up, probably between 4pm-9pm-ish. I even made a button, see?!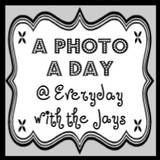 The button is also located on my sidebar for easy access.
So you can copy the button code, put it on your blog post with your pictures from the week. Leave the link for your post in the comment section of my blog (on my Photo a Day post for that week). That way, we can visit each other (just for future reference, I plan on eventually creating "link" parties for this... but let's just see who hops on board for now)!
So here are my pictures from Week One:
my package from World Market
that had new placemats and napkins! The little things in life :)
tutorial from Jones Design Company
to create.
Again, here is the button code: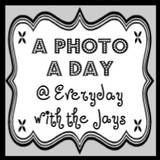 You can join in starting tomorrow (as in, start taking your pictures so you will have Sunday-Saturday covered)! And don't beat yourself up if you miss a picture one of the days, this is supposed to be fun! I'm sure I'll miss a day... I have been known to be a smidge forgetful :) And it can be photos of ANYTHING: something you did that day, at work, a project, something in the car, at the store, what's for breakfast-lunch-dinner, anything!
Let me know if you plan on joining, this will be so fun and definitely get our blog
community
family growing!